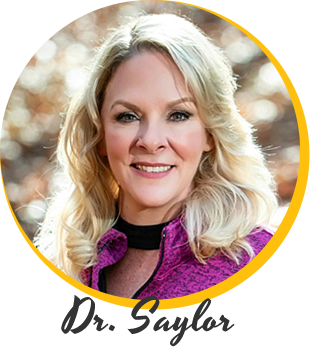 Growing up, Dr. Saylor was set on becoming a veterinarian. "I love animals and thought 'this is what I want to do.'" She attended Michigan State University and was considering vet school. When she worked at a vet clinic, however, Dr. Saylor realized that she didn't do well with blood! That's when she decided to change her degree to Zoology and Animal Behavior.
After earning her bachelor's, Dr. Saylor worked at Minnesota Zoo. While she loved walking around and interacting with people the day-to-day aspects of her job didn't feed her soul.
Her Introduction to Chiropractic
While she was home, a friend of the family, who was a chiropractor, invited her to go to homecoming at Palmer College of Chiropractic. This friend said, "You love health and you love people-you'd make a great chiropractor!" Dr. Saylor agreed to check it out and decided that being a chiropractor would be her life's path.
In 1997, she earned her Doctor of Chiropractic from Parker University in Dallas, TX. She loves being a chiropractor and encourages as many people as she can to check out this form of natural health care at Van Every Family Chiropractic Center.
After completing her Doctor of Chiropractic, Dr. Saylor furthered her education in pediatric chiropractic care. She completed her Diplomate in Pediatrics from Palmer. Currently, there are fewer than 300 chiropractors in the world who possess this advanced degree. As a mom of two, Dr. Saylor is particularly passionate about helping children experience optimal health through natural chiropractic care.
Discovering Koren Specific Technique
The other reason why Dr. Saylor loves being a chiropractor is she gets to provide patients with gentle adjustments using Koren Specific Technique (KST). There is no cracking, popping or twisting involved. "KST changed my practice and my life," she said.
This is how: She had fallen down some stairs and was in more pain than most of her patients. Dr. Saylor couldn't walk and was having different issues. Then, when she was eight months pregnant with her first daughter, Dr. Saylor threw out her back while adjusting a patient. She injured herself to the point where she couldn't get out of bed.
"I learned that KST was coming to Detroit at a conference and knew that I had to check it out." While she sat and listened to the conference speaker she learned that this approach represented a very different and unusual way of adjusting the body. "I got adjusted on a Sunday and woke up pain-free on Monday. After being in pain for 10 years I realized this is my path and my journey."
Discover What Drives You
"When I wake up I can't wait to get to work and help as many people as we can possibly help." Are you happy with what you're doing? Dr. Saylor's advice to others is this: If you are not driven by what you do, find something else-find that which feeds your soul and your heart.
Book an Appointment
Experience for yourself how fantastic you can feel with a KST adjustment. Call (248) 616-0900 today to schedule an appointment with Dr. Saylor!