Colic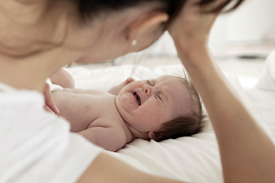 Commonly described as bouts of crying for more than three hours a day for more than three days a week, colic is somewhat of a mystery. People often think that it's normal for babies to cry and it's not! It's normal for babies to be healthy and happy and not to cry endlessly. It's only normal for babies to cry for a very short period if you're not meeting their needs. With colic, there's always an underlying cause.
Indigestion or Birth Trauma?
Colic in infants was first thought to indicate that a digestive issue like gas is present. If a baby is inconsolable, it's hard to know if it's a digestive disturbance. Colicky babies also may have experienced a difficult birth that involved interventions.
A 67% Reduction in Crying
In the October 1999 issue of the Journal of Manipulative and Physiologic Therapeutics, the results of a randomized controlled trial were published. In the study, a small group of 50 infants was tracked. Half of the babies received the drug dimethicone, and the other were given spinal manipulation. At the end of the two-week study, the infants who were adjusted experienced a 67% reduction in crying as opposed to the drug therapy group who had a 38% reduction.
The Role of Chiropractic Care
Though chiropractic isn't a treatment for colic, it can help to restore proper nervous system function. With the way we care for babies, it's a little different because we find a lot more belly upsets and diaphragm disturbances due to the crying, so the adjustment is very different too.
At Van Every Family Chiropractic Center, we get to the root of why a baby is so upset, determining what's wrong and then fixing the issue. To do that, we do a lot of cranial sacral work, specifically looking at the rotation of the sacrum. Those two areas are the key. We usually see an immediate resolution with babies and colic. The crying is almost always gone after the first adjustment.
Contact our Royal Oak chiropractic office today for an appointment. We want to help put your baby's colic to rest.
---
Chiropractic for Colic in Royal Oak and Clawson MI | (248) 616-0900