Events at Van Every Family Chiropractic Center
Gaining knowledge about how to maintain your health is a vital part of enjoying the highest levels of well-being. The Van Every Family Chiropractic Center team offers various events throughout the year to help you learn about maintaining your wellness.
Some events happen every year, or multiple times every year, such as our Easter Bunny and Santa Visits, Fall Festival, Kids' Club, and Bring a Friend Days. Van Every Family Chiropractic Center also has Open House weeks, Testimonial Week and many other short, one-day events throughout the year.
We appreciate all of our patients and continue to find ways in which we can celebrate them. Our focus is health, education and happiness. It's a winning combination.
Interested in learning more about upcoming events at Van Every Family Chiropractic Center? Reach out to our team to get started!
Upcoming Events at Van Every Family Chiropractic Center

Ongoing and Yearly Events
Gift of Health through Jan 31st, 2021
This will be the first year for the Gift of Health, and it will be the best one yet! We are handing out coupons left and right in the office… but we wanted to make it easier than ever for you to share this offer with your family and friends digitally as well, since unfortunately so many of us don't get to physically see as many family and friends in person this year.


Easter Bunny and Santa Visits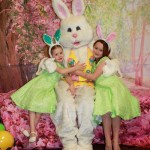 Kids are invited to visit with the Easter Bunny and Santa right here in our office. The family receives a free 5 x 7 photo of the visit.
This is simply an excuse to have a fun day at Van Every Family Chiropractic Center, and something that many families look forward to every year. So many adorable pictures!

Kids Club
One Friday a month, Van Every celebrates our youngest patients by offering Kid's Club.
Parents can bring their kids under 17 yrs old and have them adjusted. Kids get balloons and popcorn while parents get peace of mind! Please call us for upcoming dates.

Fall Festival
Each October our patients and their families are invited to enjoy our Fall Festival.
Everyone receives a free pumpkin and can win prizes at any of our fun games. We have cider and donuts, too. Our DJ is here spinning the hits and keeping everyone dancing. Staff and guests get to dress up in their Halloween finest!

Annual Royal Oak Kid's Day
Royal Oak Kid's Day is a free health and safety event for the children in surrounding communities. The focus is on healthy families and child safety but presented in a Fun, Festive environment.
We offer free Child ID kits, Bicycle Helmets for $5, Health Screenings, Posture Screenings and much more.
The Royal Oak Police Department & Fire Department will be on hand with their vehicles. Kids can have their faces painted, crazy hair, tattoos, bounce in huge bouncy castles and dance to our favorite DJ spinning some great tunes!
Our goal is to make it so much fun that the kids don't even realize they're learning good health habits!
---
Events at Van Every Family Chiropractic Center | (248) 616-0900