Prenatal Chiropractic in Royal Oak
Did you know that 96% of women experience back pain during pregnancy?
Guiding You Through a Healthy Pregnancy
Think of all the extra weight you're carrying around from your unborn baby. Hormonal changes make the pelvis more flexible, which can result in the spinal joints, muscles and ligaments more susceptible to injury. Chiropractic care can help expecting moms by
Educating you on correct posture, lifting and other lifestyle factors that can reduce spinal stress
Ensuring the joints of the pelvis and low back move freely for a successful birth
Helping the spine adapt to the increased weight and altered posture of pregnancy
Recommending exercises to improve spinal health
Restoring joint mechanics to reduce pain and improve function
Our Prenatal Chiropractors Are Highly Credentialed
Dr. Saylor, Dr.Kristen, & Dr. Kennedy have undertaken obstetric studies during their time at chiropractic school. They have also acquired additional education about pregnancy care. Dr. Saylor earned her Pediatric Diplomate (DICCP) in 2000. This board-certified chiropractic specialty was established in 1993 by the Council on Chiropractic Pediatrics of the International Chiropractors Association. The comprehensive certification program entails 30 modules or more than 360 hours taught over the course of three years.
The Webster Technique for a Better Delivery
Developed by Dr. Larry Webster of the International Chiropractic Pediatric Association, this method releases stress on your pelvis. It allows your uterus to relax, giving the baby enough space to turn into the proper position for birth.
Enjoy a comfortable pregnancy experience. Contact Van Every Family Chiropractic Center today! We accept insurance and offer Saturday appointment hours.
Guided Support Straight To Your Inbox
We know how it is when you find out you're pregnant – we've been there. Your excitement and nerves roll into one. You start to see your future with this little one, and know your life is changing for the better! These emails will serve as a guide throughout your pregnancy – from health tips to preparing for delivery.
If you don't take care of yourself, you may not enjoy your pregnancy as much as you could be. After all, a healthy baby needs a healthy mom! That's why the providers at Van Every Family Chiropractic Center want to deliver guided support straight to your inbox, based on where you are in your pregnancy. Click on the link below that corresponds to how far along you are to get started today!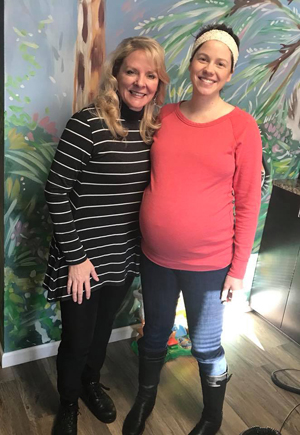 Incredibly Effective!
My first pregnancy was pain-free (aside from labor, of course!), and I attribute this to frequent visits to Van Every to help manage all of the changes my body went through to grow a child. My second pregnancy was going great until I woke up one day to incredible pain in my hips. They felt dislocated, my pain level was at an 8, and I could barely walk. Due to the nature of the injury, I knew that the only option to recover was chiropractic care. I just couldn't see how anything else would help my hips go back to normal. I immediately went to Van Every and received a series of adjustments over the next week. By the 3rd adjustment, by pain level had decreased to a 4. By the end of the week, I was completely pain-free! Recovery was fast. The adjustments were incredibly effective and I am SO thankful that I was able to work with Dr. Anna to address the injury quickly.
-Anna J.
---
Pregnancy Chiropractor in Royal Oak and Clawson MI | (248) 616-0900