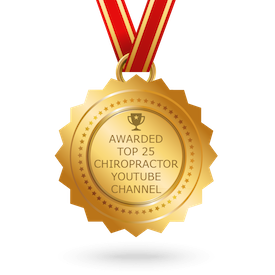 We are delighted to announce that our practice's YouTube channel has recently been named one of the Top 25 Chiropractic YouTube Channels by Feedspot, a content reader. According to the Feedspot website, the chiropractic channels were chosen using the following criteria:
Total youtube channels subscribers, video views and video uploads
Quality and consistency of videos
Youtube searching ranking
Feedspot editorial team's objective and subjective review
Ranking in 19th place on the list, Van Every Family Chiropractic Center currently has 2,732 YouTube followers, 3,226,520 views and 263 videos. It's incredibly fulfilling to know that so many viewers look to us as a highly credible natural healthcare resource.
Chosen From Thousands of YouTube Channels
It's gratifying to have been selected from thousands of chiropractors' YouTube channels in the Feedspot index. According to the Feedspot website, "We've carefully selected these youtubers because they are actively working to educate, inspire, and empower their audience with frequent updates and high-quality videos."
A Passion for Educating People About Chiropractic
Communicating the benefits of safe and natural chiropractic care is one of our greatest passions at the practice. Our presence on YouTube allows us to reach millions of people who may not be familiar with the highly effective healing that chiropractic provides. This honor reinforces our commitment to offering exceptional natural health care to our community and spreading the good word about chiropractic to Internet users everywhere.
We look forward to remaining a presence on YouTube and continuing to share with viewers how chiropractic can make a difference in their life. If you haven't tried chiropractic yet we invite you to book an appointment with us today!