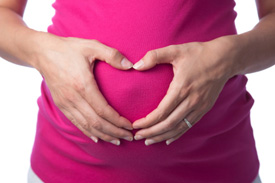 At Van Every Family Chiropractic Center, we know you want to give your baby the best start in life possible. But did you know that start begins even before they're born? With natural, effective and safe chiropractic care during pregnancy, our practice can help ensure your body is working properly and functioning exactly as it should in order to provide your child with the best environment for development.
Consider these four reasons to choose chiropractic care with us during your pregnancy!
1. If you're in pain or experiencing discomfort, we can devise a custom care plan for your needs. In fact, 96% of women experience back pain during pregnancy—and that's our specialty! Because your body is changing and organs are shifting, you're carrying weight differently than you have before, which can cause added strain on the back. Dr. Saylor and Dr. Ashley can devise a custom care plan for your needs to alleviate discomfort.
2. We'll help get your baby in the best position for a smooth delivery. If your baby is in a breech position, natural chiropractic care is often helpful in allowing the baby to turn in the proper direction for birth.
3. A smoother delivery is possible. Because chiropractic helps regulate your body and its systems, care helps to ensure a smooth experience in the delivery room. If you're opting for a natural, drug free birth, it can also help reduce the need for pain medication.
4. You'll feel better after you've given birth. Women who receive regular prenatal chiropractic care often experience more comfortable breastfeeding, improved pelvic alignment and less postpartum depression.
Ready to Book Your Visit?
To get started, contact Van Every Family Chiropractic today. Our practice is a safe, welcoming environment for expectant mothers and families, and we're excited to help you prepare for your new bundle of joy.
We can't wait to meet you!