Event: Kids Day 2017
Event Date: Saturday, May 20, 2017
Event Time: 10:00 a.m. to 1:00 p.m.,
Event Location: Van Every Family Chiropractic Center, 4203 Rochester Rd, Royal Oak, MI 48073
Event Coordinators: Dr. Anna Saylor
Contact Number: 248-616-0900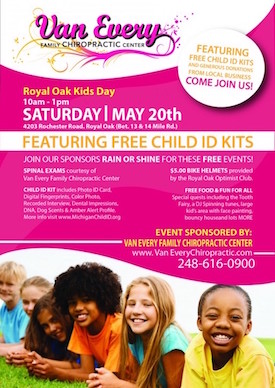 On Saturday, May 20th, 2017 Van Every Family Chiropractic will host their 18th annual "Kids Day Health Celebration", a Health & Safety Day. Dr. Anna Saylor and Dr. Ashley will be sponsoring the event in their office from 10:00 am until 1:00 pm at 4203 Rochester Rd. Royal Oak, MI 48073 (between 13 and 14 Mile Rd). Just look for the pink wall.
As local Chiropractors, Dr. Saylor & Dr. Ashley spend a lot of time both inside and outside of their practice helping children. It is for this reason that they chose to sponsor this monumental FREE event in Royal Oak. They will provide essential information to all attendees on crime prevention and child safety. Each child will receive a dental impression as well as a CD containing a photo, video, digital fingerprints and their vital information. The Royal Oak Fire Department is bringing their fire trucks and will support the event by providing fire safety tips. The Royal Oak Police Department will be on hand with safety tips and their police car.
Van Every Family Chiropractic Center will provide FREE posture exams, and distribute vital information on disease prevention and specific health issues that affect children. There will be special character appearances, face painting, games, and a Bouncy House. FREE balloons, food, and giveaways for everyone! Prize drawings every half hour!
We are inviting area businesses and our patients, family and friends to get involved and "Help Us Help the Children". There are many ways in which you can get involved, such as:
Sponsoring the event
Donating prizes for our giveaways – With the logo of your business
Donating Refreshments – Any type of baked goods, cookies, cakes,
Placing our flyers on your countertop
Handing out fliers to your customers
Volunteering at the event – We need your help!
Let us know if you can help by emailing Dr Saylor at SaylorDC@aol.com or calling us at 248-616-0900.
Yours in health,
Dr. Anna Saylor & Dr. Ashley