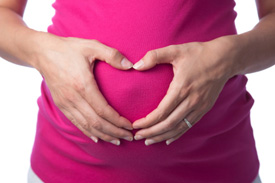 Bringing a new life into the world is one of the most thrilling experiences a woman can have. That's why empowering moms-to-be is vital. We do that by providing information they need to have a successful pregnancy and childbirth. Recently we featured a presentation. It's entitled "Baby Bumps and Beer Bellies: Having the Best Pregnancy With Chiropractic at Van Every Family Chiropractic Center." We want to share some highlights.
Get Help to Have the Birth You Want
We discussed the four factors contributing to women's satisfaction with childbirth. In addition to having good support from care providers, we reviewed their various roles. These include OB-GYNs and other medical doctors, midwives, doulas, and lactation consultants.
Also discussed are various birthing classes. These include hypnobirthing, Bradley method, and hospital birthing classes.
The Value of Chiropractic
For Mom
Gentle, drug-free chiropractic has incredible benefits during pregnancy. Chiropractic improves the biomechanics of the pelvis for improved labor and delivery. We also shared how the nervous system controls everything. Also discussed was information about the two most essential bones when it comes to having a smooth delivery.
We also talked about the Webster Technique and facet loading.
For Baby
Even normal healthy childbirth puts enormous pressure on a baby's head. As chiropractors, we can adjust babies shortly after birth. Doing so can prevent many common conditions from occurring. These include colic, torticollis and others. By addressing potential problems in infancy, babies can grow up into healthy kids. They can avoid asthma, ear infections and other issues.
Protect Your Baby From Stress
We shared the three causes of stress or Ts (thoughts, traumas and toxins). You can find out what to do to combat stress and protect your baby.
Our Practice Distinctives
First, we are pediatric chiropractors who have additional education. We use low-force techniques and noninvasive technology. Plus, kids love being here. With two jungle rooms and plenty of activities, many children don't want to leave!
Whether you just found out you're pregnant or are several months along, we want to help you experience the best pregnancy possible. Contact us today to book an appointment!