PREPARE TO UNRAVEL THE PERFECT STORM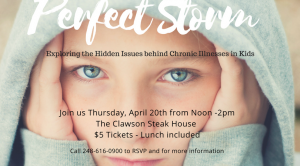 An ADHD, SPD and Chronic Issues Inspired Conversation
Does your child struggle with Spectrum and Sensory related issues?
Have you tried multiple therapies and perhaps even multiple medications?
 If you answered YES to either of these questions, you need to attend this informative and impactful event in order to PREPARE FOR YOUR CHILD'S BEST YEAR YET!
The definition of a "Perfect Storm" is when a few bad things come together and combine to create absolute mayhem.  Led by preeminent experts, Dr. Anna Saylor & Dr. Ashley Budnik, this important presentation reveals the newest science and research, teaching you some of the most common "ingredients" that constitute these now pandemic issues. Once you know each critical "ingredient" that makes up ADHD, Sensory Processing Disorder and Chronic Illnesses, you can take steps to prepare for your child's best 2017 by unraveling the storm NOW and by preventing further storms in the future.
Sharing this information with you so you can take that first step towards your child's health and happiness is the primary goal of this event. You won't leave just with information about these challenges; you will leave with actual things you can do immediately to help your child live the life they deserve.
We look forward to sharing a healthier view of your child's future with you.
HOW TO ATTEND
Tickets are $5 and include lunch and beverages.
Seats are very LIMITED – BUY YOURS NOW!
https://www.eventbrite.com/e/perfect-storm-royal-oak-tickets-33137985607
Or Call 248-616-0900 for more information

THE DETAILS
Thursday, April 20th
NOON - 2:00 P.M.
The Clawson Steak House
11:45 am: Doors open
Noon – 2:00 pm: Dr. Anna Saylor & Dr. Ashley Taggart presenting The Perfect Storm
Dr. Anna Saylor & Dr. Ashley Taggart are pediatric and family chiropractors, who specialize in neurodevelopmental disorders such as Autism, ADHD, Sensory Processing Disorder, and Seizure Disorders as well as common childhood conditions like Ear Infections and Asthma. They have extensive education, experience, and passion in these areas, and have a large family practice in Royal Oak, MI serving this population, as well as general family wellness. Dr. Saylor has a D.I.C.C.P and both doctors have hundreds of hours of post-doctorate education and training in the care of pediatric patients.
From their training and clinical work, their approach is radically different. Unlike those who are content covering up symptoms with drugs and medications, Dr. Saylor & Dr. Ashley share the concern of many parents, that many of these conditions have a common cause and most have a real solution.
The National Wellness Foundation
Organizer of Autism,ADHD, & SPD – Unraveling The Path to The Perfect Storm
The National Wellness Foundation (NWF) is a 501 (c) (3) non-profit organization dedicated to providing resources and information regarding family health and wellness. The NWF and our members are committed to providing valuable community education, workshops, and events relating to relevant health and wellness topics affecting your family and our communities.